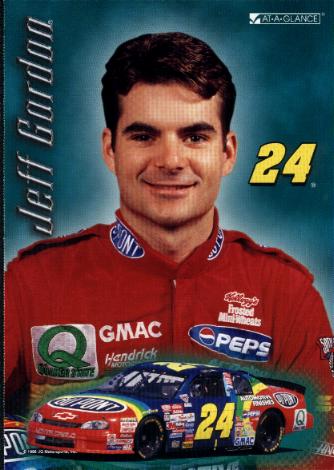 I scanned this picture from a poster




Jeff Gordon was born August 4, 1971 in Vallejo, Calif. He now resides in Cornelius, N.C. with his wife Brook. Jeff drives the Dupont Automotive Finishes-sponsored Chevrolet Monte Carlo owned by Rick Hendrick.
Jeff Gordon started his NASCAR Winston Cup career in 1993 with rookie of the year honors. In 1994 he had 2 wins. In 1995 just two years into his career he had 7 wins and his first NASCAR Winston cup Championship. The youngest driver in the modern era to win a championship. In 1996 Gordon had 10 wins and his teammate, Terry Labonte, won the championship. In 1997 Gordon had 10 wins again and won his second championship. In 1998 Gordon had what might be the best year he'll ever have. He tied Richard Petty with 13 wins in a season and won his third NASCAR Winston Cup Championship. It's 2001, Gordon just won his 53rd race at Las Vegas on March 4, 2001. I hope this year will be better for him and his team.

My step-dad got me into racing about 4 years ago. He is also a Gordon fan. I have lot of collectibles and merchandise with Gordon on it.

My thoughts and prayers go out to the family of Dale Earnhardt. I can not honestly say I was not a big fan as you can see from this page. He will be greatly missed in NASCAR whether your a fan or not. He wasn't called the "Intimidator" for nothing. NASCAR won't be the same without him.










The best Gordon site I've seen on the net